Ahhhhhh!!! I am honestly so friggin devastated that I didn't get approved for this one. I caved, I requested, and now I may cry because I wasn't given it. I mean, a boy and his pet fox go on a quest?! A boy and his pet fox? HIS PET FOX?! 
AND I DIDN'T GET APPROVED?!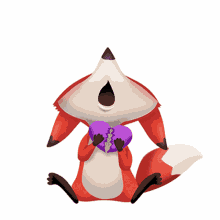 This is some sort of cruel torture and I don't even know how to respond. And it doesn't even come out until November!
Request The Boy, the Wolf, and the Stars?
A boy and his pet fox go on a quest to find a wolf who has eaten all the stars in the sky before the Shadow Witch destroys the stars and removes good magic from the world forever, perfect for fans of The Girl Who Drank the Moon and Nevermoor.

Long ago, the land of Ulv was filled with magic. But that was before a wolf ate all the Stars in the night sky, ridding the world of magic and allowing Shadow Creatures, beasts made of shadow and evil, to flourish. Twelve-year-old Bo knows the stories but thinks the Stars and the wolf who ate them are nothing more than myths—until the day Bo's guardian, Mads, is attacked by a giant wolf straight from the legends. With his dying breath, Mads tells Bo that Ulv is in danger and the only way to prevent the Shadow Creatures from taking over is to return the Stars to the sky.

And so Bo—accompanied by his best friend, a fox called Nix, a girl named Selene who's magic is tied to the return of the Stars, and Tam, a bird-woman who has vowed to protect Bo at all costs—sets off on a quest to find the three magical keys that will release the Stars. But Bo isn't the only one who wants the Stars, and the friends soon find themselves fleeing angry villagers, greedy merchants, and a vengeful wolf. And all the while, an evil witch lurks in the shadows and time is running out.
| Instagram | Twitter | Goodreads | Bloglovin' | Facebook |